Redmes Airmini Machines - Compact, Lightweight, and Convenient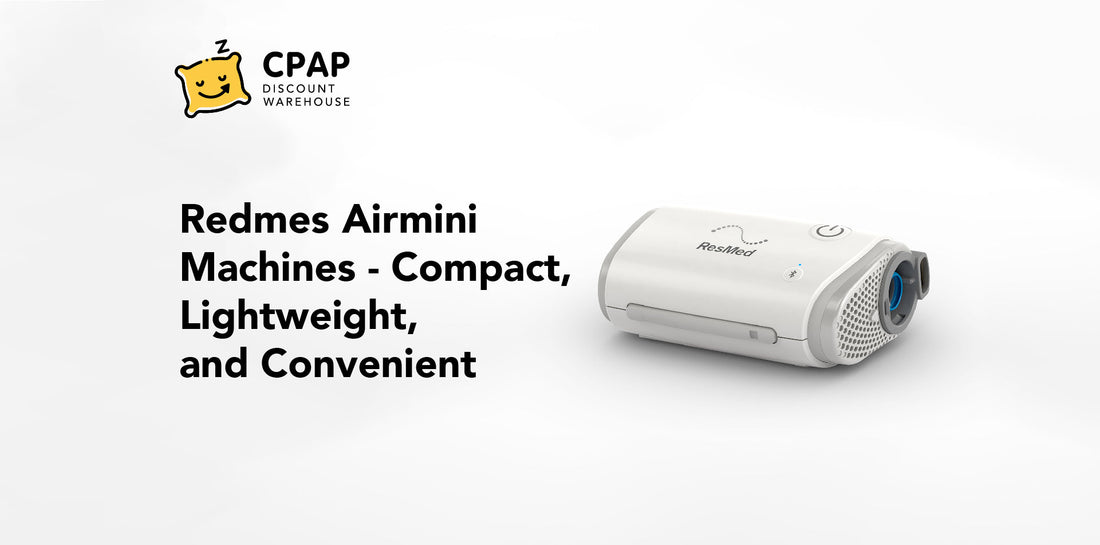 Traveling with sleep apnea has never been easier thanks to the Redmes Airmini Travel CPAP Machine. In the article below, we'll explore everything you need to know about the Redmes Airmini Travel CPAP Machine, including its compact design, lightweight construction, and unmatched convenience.
Traveling with sleep apnea? Redmes Airmini has you covered. Compact, lightweight, and convenient, it ensures uninterrupted therapy wherever you go.
Compact & Lightweight: Significantly smaller and lighter than traditional CPAP devices. The Redmes Airmini is compact and fits easily into your carry-on luggage or travel bag.

Battery powered: Whether you're camping, on a long flight or in an area with limited power, backup batteries are available for uninterrupted treatment.

User-Friendly: Setting up your Redmes Airmini while on the go is a breeze. The intuitive interface and clear instructions ensure that anyone can start their therapy wherever they are. No tech expertise is required.

Consistent Quality: Despite their compact size, Redmes Airmini devices deliver the same high-quality therapy as traditional CPAP machines. Your sleep quality remains excellent, even when you're away from home.

Travel with confidence: With Redmes Airmini you can maintain your therapy and enjoy a good night's sleep, and sleep apnea won't stop you from exploring the world.
User-friendly interface
The Redmes Airmini machines are designed with an intuitive and user-friendly interface. This interface simplifies the process of setting up and adjusting the CPAP device, making it accessible for users of all technical levels.
Touchscreen: Allows users to navigate settings easily. Touch screens eliminate the need for complex buttons and menus, simplifying the user experience.

Simple menu: Users can access information about their therapy, including usage data and therapy effectiveness, with just a few taps or clicks.

Clear Icons: The interface includes clear icons representing various functions and settings. This intuitive approach enhances usability, even for individuals who may not be tech-savvy.

User-Friendly Instructions: Redmes provides user-friendly instructions to ensure that patients are fully informed about their device.
Consistent treatment quality
Uninterrupted Therapy

:

Redmes Airmini machines

are designed to deliver continuous and high-quality therapy, ensuring that users receive the same effective treatment they get with traditional CPAP machines.

Advanced Technology: Automatic pressure regulation and continuous monitoring work together to maintain optimal therapy settings tailored to each user's unique needs.

Adaptable to Any Location: Whether you're at home or traveling, Redmes Airmini machines adapt to your environment. They are engineered to provide consistent therapy quality, regardless of where you use them.

Peace of mind: Users can be assured of sleep quality even when they are far from their usual sleep environment. This consistency promotes better health and well-being, both at home and while traveling.
Airmini's compact, lightweight design, comfortable battery life, user-friendly interface and stable treatment quality make them the optimal choice for travelers. Don't let sleep apnea stop you from exploring the world—choose the Redmes Airmini and travel with confidence.